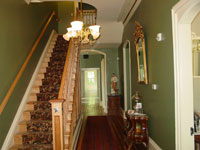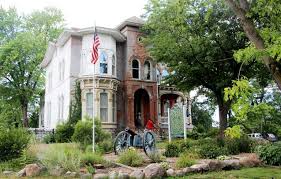 The 2 ½ story brick house is a prime example of Italianate architecture. There were 14 elegant rooms for the family as well as a workshop and staff areas. The large, airy rooms are 12 feet high and are decorated with ornate plaster work, including ceiling rosettes that anchored the lighting fixtures. The hardwood floors are maple and oak with unique detailing. Extensive research has been done and the original residence has been accurately restored to its former beauty.

A large 3-story addition was built on the back of the house when the Sisters of St. Joseph turned the building into a hospital in the 1920's. This addition has also been restored because of its importance to the history of the City of Flint.

The Stockton House was purchased in 2002 by For Flint Investments, LLC, and it was this purchase that set in motion the renovations to the building and surrounding property. Much of the front exterior had been covered with false stone sheeting. The sheeting was removed, revealing the original porches and windows. The exterior corbels are in the process of being replicated and installed. Because of the historical significance of the building, it has been designated a Michigan Historical Site and a State Historical Marker was placed in the front yard during a dedication ceremony on June 18, 2005.

The grounds surrounding the home has historically been known, since at least 1873, as Spring Grove. (See more about the natural spring and grove at SPRING GROVE). The natural spring still flows onto the site as it was reopened in 2013.